In December 2020, AV-Comparatives, the most recognized testing laboratory in the world, asked to summarize the last twelve months of activity in the area of cybersecurity in a survey addressed to its readers. In one of the questions it was required to issue an opinion on known research institutes that through their work contribute to the improvement of personal and corporate digital security.
Respondents were actually enthusiasts, amateurs, and professionals that are interested in online security. They rated eight companies in the test industry, giving a score from "-2" to "+2" where "+2" means maximum reliability, and "-2" bias. Not all respondents could know about individual laboratories while filling the survey, especially about those with shorter market presence, and the most recognized companies could thus be rewarded. Nevertheless, that does not change the fact that AVLab as a small organization from Poland was placed in fifth place among the eight most popular and respected companies in the world from security tests industry.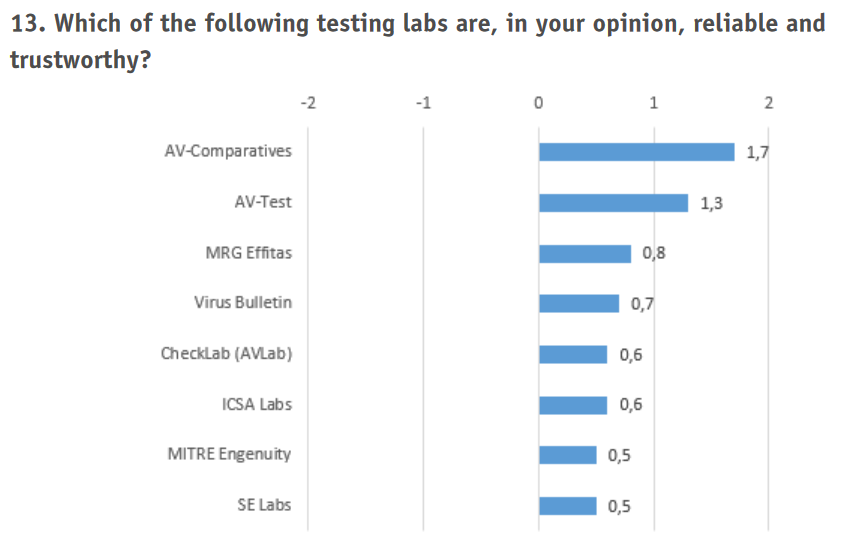 AVLab among the most famous laboratories in the world
The Austrian AV-Comparatives and the German AV-Test have received a combined score higher than "1", and together with the British MRG Effitas are the most respected laboratories. When it comes to AVLab, it has already been placed among the leaders of trusted laboratories in Europe in the previous edition of the same study (in 2019). The summary of 2020 revealed that we rank higher in each category, earning more and more popularity, not only in Europe, but also in both Americas and Asia.
We have been assessed and ranked fourth in Europe (we were ranked fifth in the last year). At the same time, it is worth bearing in mind that only 1,4% of respondents were from Poland. This on some level confirms that AVLab (and CheckLab) are increasingly recognizable on the international stage. Additionally, CheckLab exists only since July 2019, and AVLab since January 2012. In this respect, we are no match for AV-Comparatives that was founded in 1999, and for AV-Test founded in 2004.
In general, 8 companies have been listed in questions about laboratories that were supposed to be evaluated by respondents. There were many more of those companies last year. In 2020, few organizations were not included in the study. The reasons were varied, but the most important: poor recognition in the world, lack of updated website, no new studies in the security category.
On behalf of AVLab team, we thank AV-Comparatives for preparing the survey and results. We would like to thank readers from all over the world for their trust and interest in our tests. This year, we are not slowing down, and we will certainly publish more comparisons, not only security products.