When reviewing security software we concentrate on an extensive description of features included, and also additional tools improving, for example, a computer optimization. This article will also pay attention to a relevant functionality which users would like to know about because they have never had the opportunity to test the AVIRA Antivirus Pro solution or haven't done this for a long time.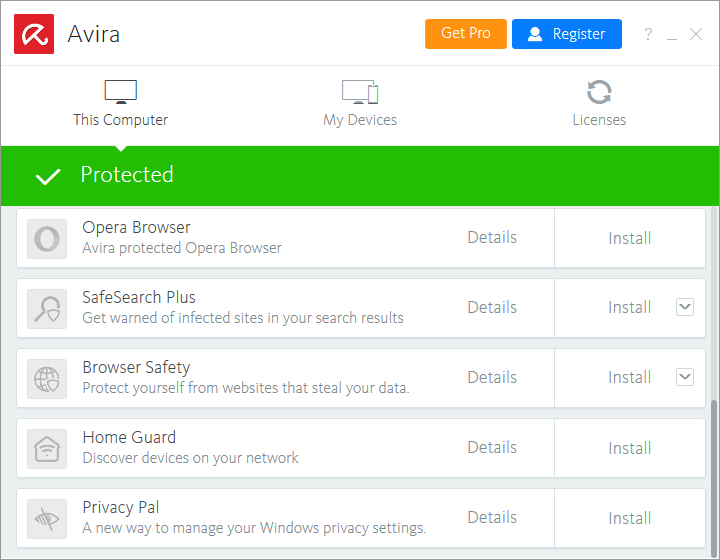 AVIRA Antivirus Pro is often included in big comparative tests that are carried out by AVLab. The developer appreciates our work for the fact that we think out of the box and pick holes in everything in spite of other testing organizations. We believe that the AVIRA Antivirus Pro software is "friendly" for testers, because it can be easily automated, so it doesn't require any extra work. AVIRA Antivirus Pro works stable even when it's bombarded with thousands of malware samples, and that is why we want to familiarize all users from Poland with the offer of AVIRA company. We're convinced that AVIRA Antivirus Pro is a tool which has a lot to offer, it's helpful, uncomplicated, and easy-to-use.
For what we recommend AVIRA Antivirus Pro?
What about we turn the question – for what we don't recommend it? AVIRA Antivirus doesn't have a unified interface. Readers of AVLab remember AVIRA from a few years ago. Then, software looked like this: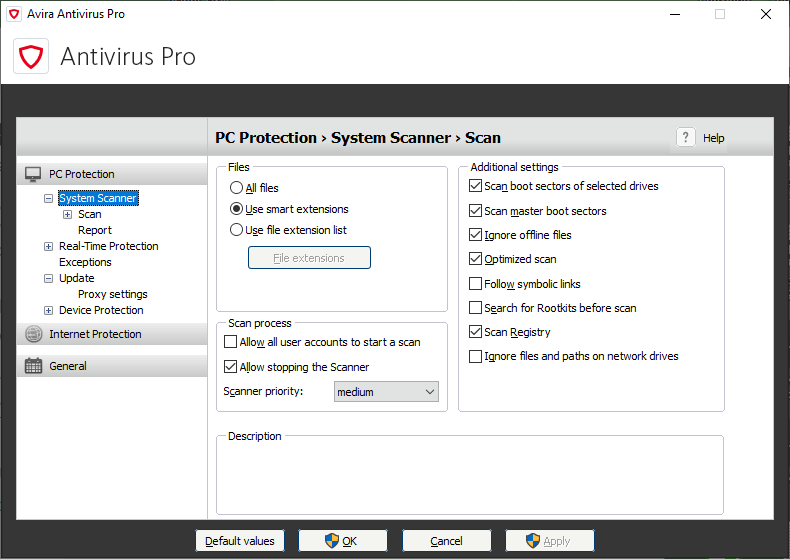 And at the same time, this is what it looks like now: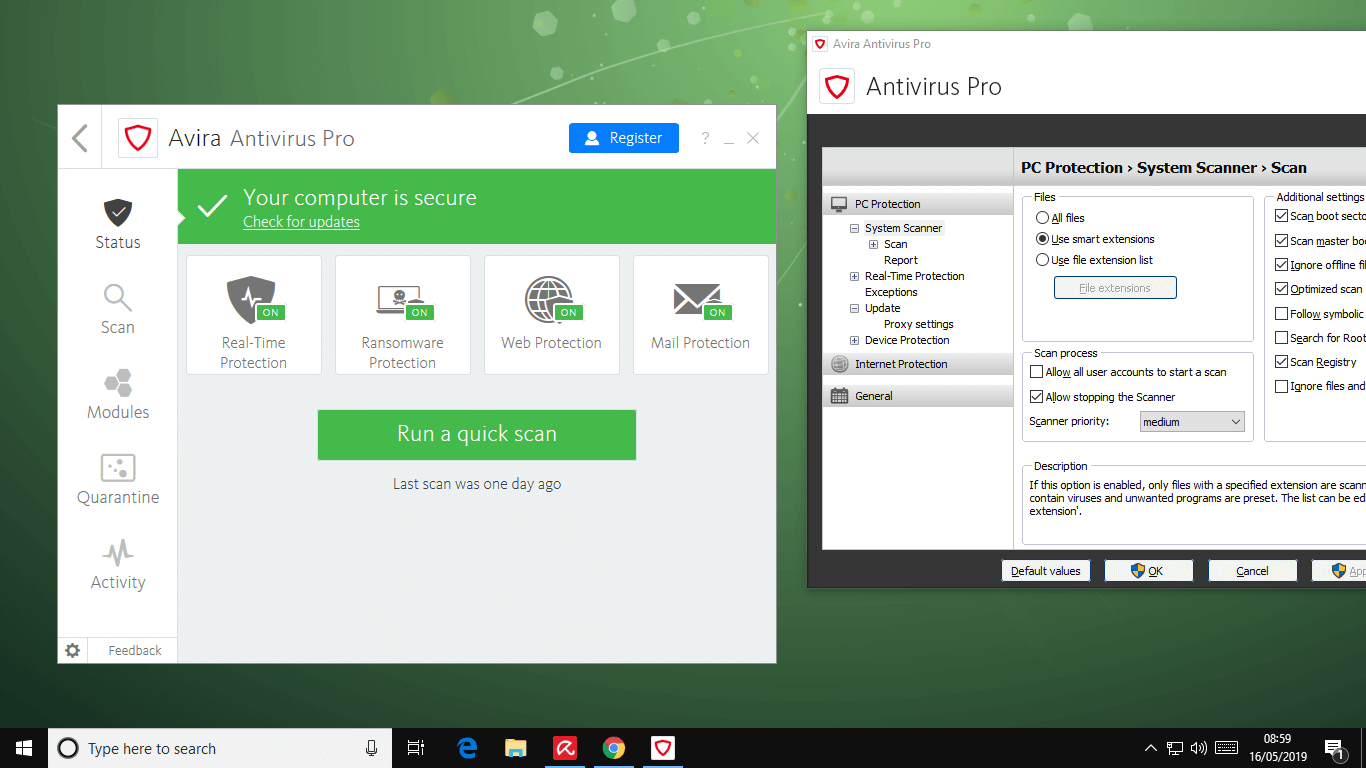 The window on the left is some kind of a central graphic theme for other tools that can be installed from a modern window, such as in the screenshot below.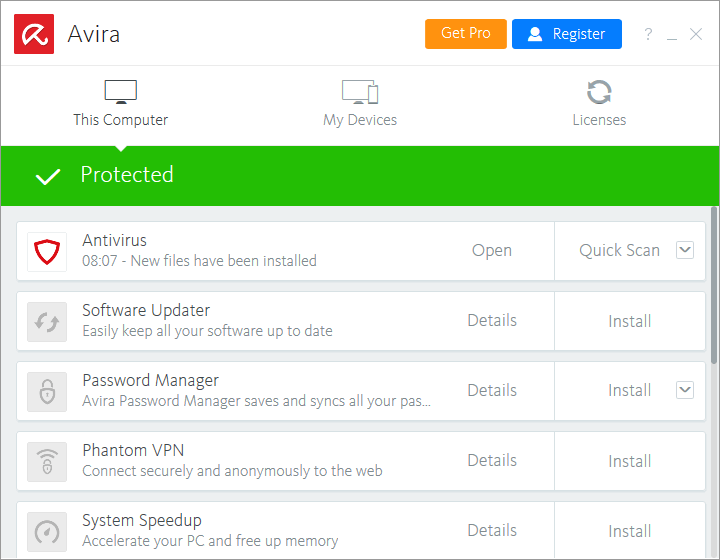 In other words, apart from base maintenance of antivirus, it's possible to install and manage software:
Software Update. It updates installed applications in the Windows system.
Password Manager. It manages passwords.
Phantom VPN. It establishes an encrypted VPN tunnel.
System Speedup. It optimizes a computer.
Safe Shopping. It's some kind of a price comparison by AVIRA that displays the lowest deals from its partners.
The Opera browser.
SafeSearch Plus. It scans websites in real-time and identifies those infected in search results.
Home Guard. It scans devices on home network for vulnerabilities.
Privacy Pal. It deletes tracking scripts, cookies, and Windows logs.
It's not very good idea to encourage non-technical users to buy additional tools that way. So what if, for example, System Speedup will remove unnecessary files from a computer, since we have to pay for additional premium features. We don't approve of this and in our view shareware tools shouldn't be included in a security product. They really shouldn't. Confusion with the graphic design and optional tools (some of them are installed without user consent, but can be uninstalled in a control panel) keep AVLab from giving a maximum rating. Outside of these disadvantages, we need to start listing positive things for which we recommend AVIRA Antivirus Pro. However, before we do, let us show difference between free and paid versions.
AVIRA Free Antivirus:
Detects malicious and advertising software.
Repairs infected files.
Blocks malicious IP hosts and phishing websites.
Blocks known ransomware samples.
Encourages user to upgrade to the paid version through popup window
AVIRA Free Antivirus:
Protects against unknown ransomware samples (!).
Scans attachments, downloaded files, and USB devices.
High priority scanning in the cloud as opposed to the free version.
Unlimited technical support.
Products of AVIRA company are available for Windows, Android, and Apple systems. From what we have already learned, Polish language won't be added anytime soon. We understand that it could be a problem for users of our country, but on the other hand there is nothing to be worry about. Using the application is intuitive.
Security advices: how to correctly configure AVIRA Antivirus Pro?
The Avira software has always maintained a good level of protection. In our tests, it has dealt well with drive-by download attacks. This is one way to infect computers that's invisible to a user. Without comprehensive protection, it's not possible to defend against such sophisticated attacks. The Avira software has again received the best result in another test examining areas of protection against ransomware, cryptocurrency miners, and new threats related to the WSL feature in Windows 10.
The Avira Antivirus Pro security suite has a significant advantage over its free version, very popular, and liked by Internet users. The paid software has a higher priority for access to AVIRA Protection Cloud where suspicious samples uploaded from infected computer are analyzed. It's worth noting that the Avira Browser Safety extension not only protects against malicious IP addresses and domains that spread malware. The module can also detect and block tracking scripts, advertisements, and scripts that mine cryptocurrency. In the case of blocking ads we have at our disposal a list provided by AdGuard. AVIRA Browser Safety for Chrome, Firefox, and Opera makes it considerably easier for non-technical users to interact with a computer.
In the past twelve months, default settings of the AVIRA antivirus were enhanced by the developer, and in certain areas software has been adjusted according to the recommendations from AVLab. Consequently, settings of AVIRA Antivirus Pro are suitable, so we have no complaints.
What to choose: AVIRA Free Antivirus or AVIRA Antivirus Pro?
It's not true that the free version differs from the paid by only a technical support. There are noticeable differences in the protection. This description of the website is at least mysterious, so we want to explain this:
Free version: Blocks all known ransomware

Paid: Protects you against evolving ransomware threats
Does it mean that AVIRA Antivirus Pro has a better protection against ransomware? Yes, it does. To protect against ransomware, AVIRA Free Antivirus uses only signatures, so it may not be able to handle a new type of threats unlike AVIRA Pro. Besides, there are no differences when it comes to the engine, heuristic modules, and detecting threat patterns.
Detailed comment on these differences was given to us by Alexander Vukcevic — a technical director in AVIRA.
When it comes to the engine, heuristic modules, and detection patterns, we don't differentiate free and paid versions. We are against intentionally decreasing protection in the free version as opposed to the paid products. And instead, the paid solutions have additional layers of protection that can detect and block threats on more diverse stages.

The best example is the additional Web Protection that can stop threats before they even reach a hard drive by combining the Cloud technologies and the URL reputation systems. The advanced protection against ransomware is also an additional component of the software. It's the best solution which consists of many complex sets of rules and behavioral triggers. It constantly monitors typical actions and function calls of ransomware, and has the ability to stop these processes immediately. The other remarkable feature is the email protection which scans incoming email messages for malicious content.

Of course, there are more differences. For instance, in the paid version you can expect the best customer service, free of charge, with a higher priority compared to free users. You will also get a priority line for the Cloud detection that handles our powerful classification systems based on AI.
In principle, we don't believe in marketing assurance, so we have carried out thorough comparison. For this purpose, we have used our proprietary system that is very precise as opposed to manual tests.
For both AVIRA Antivirus Pro and AVIRA Free Antivirus, the testing system has run sample after sample of malicious software — in the same second. That way, there haven't been any differences that are required when tests are carried out by a human in order to handle two machines at the same time (we ignore the fact how long it would take to manually run several hundred samples on two separate systems and check an infection status of Windows). In addition, after analysis of each sample our testing system has been rolling back machine's image to its original state. That way, recipients of such test (you, dear readers) are assured that no errors have occurred related to testing in the infected environment.
We have used 263 samples of malicious software in the test. Full list of checksums is available at this link: https://pastebin.com/r2JbzB86
3a43c45d7052f1dfa244b28904de13fe902bcc345a42ec7f424a518887255281
311bb44d1481361986b791cc604ab7e29275013ef0cdb8b7f1811103a28ad75d
d01cf69a1420081a4655d8ee70163487c3b056d2f1c759a7ab1b46bf8276ab61
c953c3eea1feb3aefc90a5820233995538cccf15c4f6ec9bce4a494c2aabc34d
603a3ff8dd0d0445fb92fbcbee9279eff7fb05f1cd9279cc22a59b7983f7827d
3f62a076b42a194e4030311dc96ddd7550bdbb1821c913eef2ddee453aaf4b68
6408c69e802de04e949ed3047dc1174ef20125603ce7ba5c093e820cb77b1ae1
fa0978b3d14458524bb235d6095358a27af9f2e9281be7cd0eb1a4d2123a8330
49dda3aeda29f5d2cdbc07ea8e368920578a2bd3dc2456b5d6ad1cda6af22c2f
8ed941c8afdfe114550f2786407523bab1fe794a8c552a07577899b9529e78c2
AVIRA Free Antivirus and AVIRA Antivirus Pro have achieved the maximum result. We did not find a difference in protection based on the collections samples used in this test.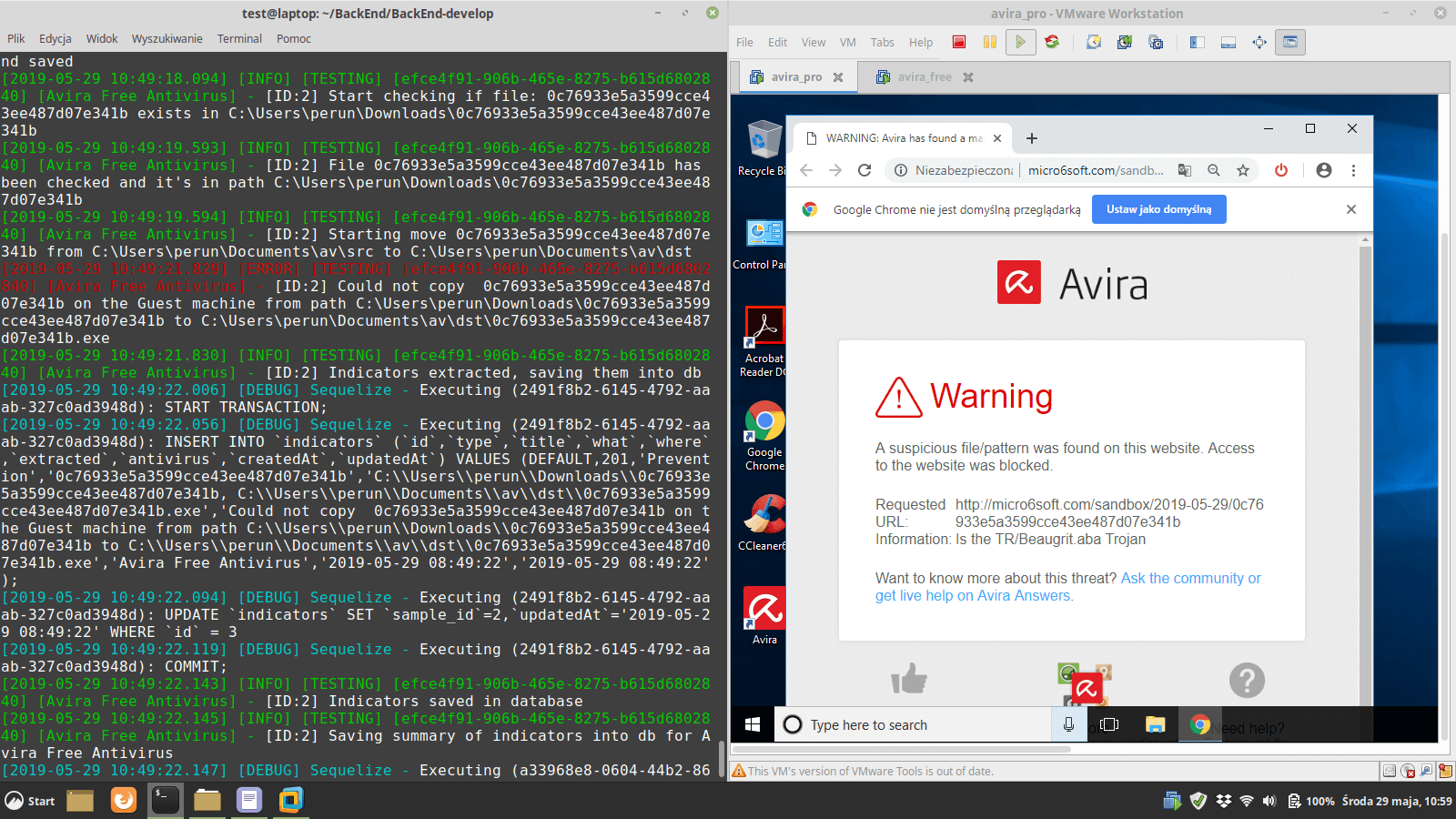 The test was carried out by automatic means. Every malware sample was run one by one in two Windows 10 systems at the same split second. That way, we have flawlessly measured the differences, resulting from, among others, the priority of the Cloud scanning between the AVIRA products.